Leata Lisiate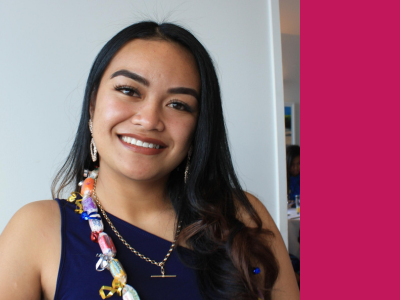 Introduce yourself and tell us what you do for a job.
Malo e lelei, I'm Leata Lisiate. I am a proud New Zealand-born Tongan who loves aviation.
My job is to conduct routine maintenance on aircraft to ensure they are released back to service airworthy.
Tell us about your pathway from school to where you are now.
It was tough during and after high school. I had to do my own research into the industry as it doesn't have the exposure of careers like pilots or cabin crew. I stumbled across the training programmes Air New Zealand offered and just went for it. I haven't looked back since.
My biggest role models are my parents. Seeing them work hard to give us the ability to do more with our futures pushed me to see how far I could go in life. Thanks to them, I've been exposed to an abundance of career-shaping opportunities which make me excited!
What's the most challenging part of your job, and what is the most rewarding?
The most challenging part about my job is knowing that every day is different. You must be able to adapt to the fast-paced environment and work accurately under pressure to meet deadlines.
The most rewarding part is in the learning! Being able to apply what I've learnt to operating aircraft!
What's something most people don't know about your line of work?
You may enter the job thinking you want to work in one specific area, then learn over the years you really enjoy doing something else on the aircraft. Anyone who joins should be open-minded, to expand their skillset and work to their strengths.
What's something you wish you knew when you were making your career decisions?
Not all maintenance is carried out in a nice big hangar. Be prepared to work outside – rain or shine.
Why did you sign up to be an Inspiring the Future role model?
To give tamariki more exposure to aircraft maintenance.
What did you enjoy most about the Inspiring the Future event?
Seeing the young people really engaged and asking awesome questions.
Was there a particular moment where you felt like you connected with or inspired any of the tamariki?
Uncommon career paths do not get enough exposure. I was able to connect with several young people who were shocked that aircraft maintenance engineers even existed.
What did you learn during the Inspiring the Future event?
There are so many great career paths out there! It was nice to see the same enthusiasm from the other role models. Our young people are so lucky to have Inspiring the Future.
What would you say to anyone thinking about signing up to be a role model?
I love that I get to talk about a career path that I'm so passionate about. You'll never know who you inspire so sign up and get amongst it!